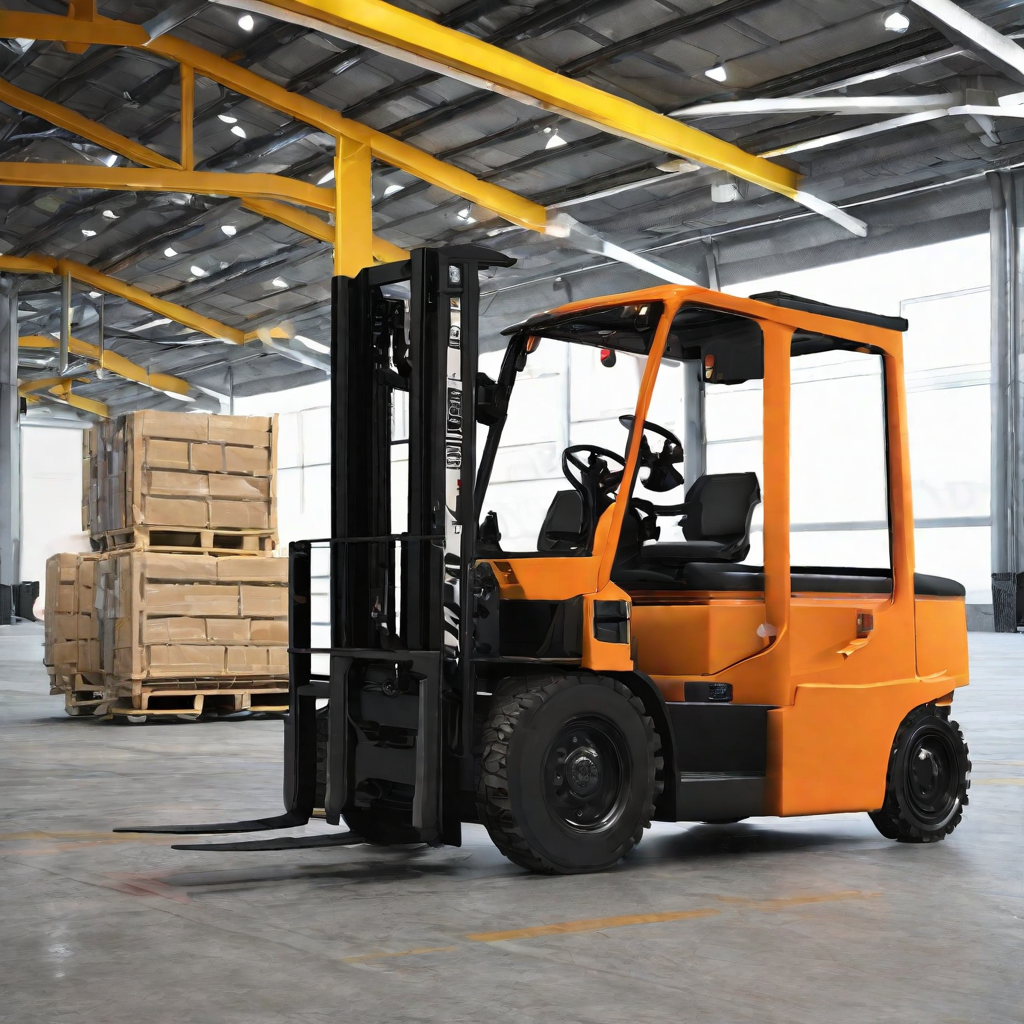 Forklift truck is highly versatile powered industrial trucks used to lift and move materials short distances. In this comprehensive guide, we'll cover everything you need to know about forklifts, their uses, types, safety features, and more.
This article takes an in-depth look at forklift trucks, their types, uses, safety measures, also, regulations. Forklift trucks are essential industrial equipment used for lifting and moving heavy loads. Understanding their different types, applications, also, safety guidelines is crucial for ensuring efficient and safe operations in various industries.
What is a Forklift truck?
A forklift truck is an electrical or gas-powered industrial piece of equipment with a metal fork platform attached to its front. It is used to lift heavy loads by inserting the fork platform under cargo, pallets, or machines for moving or storing them. Forklift trucks come in various sizes also, power sources, making them suitable for small businesses and large industrial operations.
 A forklift is a powered industrial vehicle with tines at the front that can be raised and lowered to lift and also, move pallets, crates, and other cargo.
They range in weight from 1,500 to 36,000 pounds and have lifting capacities from 2,000 to over 44,000 pounds.
 A lifting carriage is generally powered by lithium-ion batteries or internal combustion engines like LPG, diesel, or gasoline.
A forklift truck is designed to safely and efficiently lift heavy loads beyond human capabilities. also, They are classified based on their workload, capacity, size, terrain, also, special features. Here are some common types of forklift trucks:
Also known as swing mast forklift trucks.
Can load and unload materials in narrow aisles.
Ideal for small spaces, small trucks, also, cold storage units.
Counterbalance Forklift truck  :
One of the most common forms of forklifts.
Comes in three and four-wheel models.
Has a counterweight at the rear to compensate for heavy loads.
Can drive right up to a load instead of reaching for it.
Side Loader Forklift :
Lifts load from the side.
Ideal for narrow aisles where other forklifts cannot maneuver.
Forks can rotate 90 degrees with a load.
Can be operated in a man-up or man-down position.
Reach Forklift :
Used in warehouses and has two outer legs to distribute the load.
Has a long horizontal platform behind the mast for picking up bulky items in high places.
Provides portability and stability in tight spaces with limited headroom.
Turret Forklift :
Counterbalanced narrow aisle forklift.
Has an articulating base that rotates the forks 180 degrees.
Ideal for order picking in high-rack warehouses.
Can fully rotate the forks while the truck remains immobile.
Rough Terrain Forklifts :
Designed to be driven over uneven surfaces while carrying heavy loads.
Types include telehandler, rotating telehandler, and straight mast.
Telehandlers have a telescoping boom for various distances and heights.
Rotating telehandlers can rotate a full 360 degrees.
Straight mast forklifts are easily maneuverable and accessible.
Main Parts of a Forklift
 Forks – The section that inserts under loads for lifting and moving.
Mast – Raises and lowers the forks and carriage.
Carriage – Holds and moves the forks up and down the mast.
 Overhead Guard – Protects the operator from falling objects.
Controls – Steering, braking, acceleration, and lift/lower levers.
 Battery or Engine Compartment – Houses power source.
 Tires – Drive and load wheels with different capacities.
Stand Up Forklifts
Apart from the traditional sit-down forklifts, there are also stand-up forklifts that offer different maneuvering methods. Here are some types of stand-up forklifts:
Order Picker Trucks:
Controlled from a carriage on the truck.
Used for loading products during the picking process.
Can reach heights of up to 40 feet or higher.
Stand Up Trucks:
Three-wheel forklifts that can turn easily in tight spaces.
Have a counterbalance similar to full-sized forklifts.
Battery-powered and operate quietly.
Suitable for close quarters and narrow aisles.
Double Deep Forklift:
Designed to work with double deep pallet racking.
Forks can be extended to reach into double-deep racking.
Have an outrigger to counterbalance the weight of loads.
Uses for Forklifts
Warehouse Loading/Unloading – Transporting pallets between storage and trucks.
 Manufacturing – Assembling components and moving finished goods.
Construction – Moving building materials around job sites.
Aviation – Servicing aircraft with catering, cargo, and equipment.
Wholesale/Retail – Stocking inventory in stores and distribution centers.
Agriculture – Forklifts can lift and transport hay bales, feed, and produce.
Types of Forklifts
 Reach Trucks – Extended forks for high stacking and shelving access.
 Rough Terrain Forklifts – Handle outdoor applications with larger tires.
Electric Motor Rider – Battery-powered for indoor warehouse use.
Combustion Forklifts – Gas, LPG, or diesel powered for heavy or all-day use.
Pallet Trucks – Manual jacks for loading pallets onto vehicles.
Tanker Trucks – Designed for use in liquid storage with barriers.
 Telescopic Handlers – For extremely high lifting and reaching capabilities.
Choosing the Right Forklift
Selection depends on factors like:
Indoor vs outdoor use
Floor-type and surface conditions
Lifting weights and loads
Frequency and length of operation
Types of loads and cargo dimensions
Site configuration and space
Budget and acquisition factors
A dealer can help evaluate the need to select optimized forklifts.
Forklift Safety Features
Safety is critical with these heavy-duty machines. Key features include:
Seat belts and rollover protection structures
Backup alarms, turn signals, also, mirrors
Anti-slip controls and dead-man pedals
Load backrests, side shifters, and limitation devices
Mast guides, cages, and tilt sensors
Housed electrical components and fire suppression
Lights, horns, and flashing beacons for visibility
As the above overview explains, forklifts come in many configurations but all serve the important function of materials handling through their ability to lift and transport cargo using their powered forks. When properly selected and safely operated, Also, they are essential equipment in distribution also, manufacturing facilities worldwide.