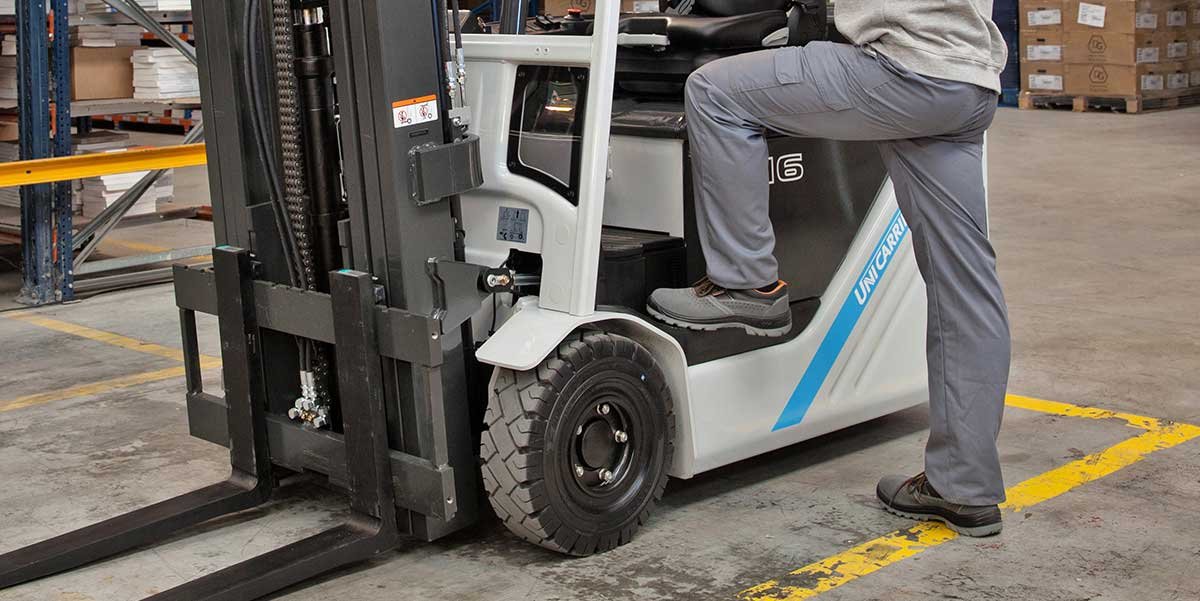 Materials Handling Equipment 
Electric Forklifts- Gas Forklifts-Lp Forklifts-Articulated Forklifts- Side loaders-Container Handlers-plastic pallets-automated storage systems.
Electric Forklifts: electric forklifts are one of the best equipment for handling a huge tons of heavy goods from one place to another, some are for serving internal confined places and narrowest isles. Electric forklifts benefits insures efficient handling through easing the flow of goods at the most narrow and high places saving costs, ensuring efficient workflow, reducing human injuries and security. Materials handling of goods is a wide industry full of various types of equipment for fixing all industrial problems, and with the use of electric forklifts it became much easier to move heavy goods from one place to another.
side loaders : side loaders are of great importance in outdoor areas and most efficient over long distances. Side loaders equipment are also mostly efficient in handling of goods with width with up to 12 meters as timber, steel, aluminum, roof trusses, pipes and concrete , beams of steal structure. In the movement cycle safety side loaders are of great importance for keeping loads secure and eliminating dangerous situations from arising. With side loaders heavy goods can be easily transported with very high level of safety.
Manual pallets: manual pallets work processes involves complete handed operation. Manual pallet trucks are perfect for the efficient handling of heavy pallets over short distances. Stand-in and sit-on pallet trucks offer the best of both worlds, and allow more comfort and efficiency over longer periods of use in the moving process.
order picker: Order pickers are fastest and accurate tools in order picking to ensure the easiest flow of materials handling specifically in narrow aisles. With order pickers materials handling is an effortless and accurate operation. The most efficient systems involves full customization to allow a user to properly match the trucks' performance with the skill of the operator.
pallet stacker: in facilities and warehouses pallet stackers has been designed to be as operator friendly as possible with smooth drive, lift and lower control to provide effortless maneuverability in the tightest corners of the warehouse or production floor. The most efficient stackers are designed for everyday operations where space is often limited. The most reliable and energy efficient stackers help store goods in mid to high level racking, are easy to operate and delivering enhance productivity with a low cost operations.
Automated Storage Systems :The cycle of materials handing involves equipment that best serves storage and with minimum human interactions as automated storage systems. Some warehouses prefer storage equipment than using electric forklifts, stackers, pallet trucks, order pickers or any other equipment.Automated storage system is a great tool for facilities, an automated machine is for managing warehouse inventory. The most ultimate automated storage systems saves cost, storage space, securing valuable goods, no tilting for containers or error while movement also bringing the requested items in seconds which saves time. The most technological systems manages inventory calculations by deducting items from the system. The most efficient automated storage systems are customized according to the client request, the number of the containers inside the system and the load capacity for each container. It involves excluding ladder climbing, human injuries or human error to ensure the most efficient flow of goods and one of the fastest handling tool.
plastic pallets :in Any facility plastic pallets serves a great deal in warehouses and facilities. Plastic pallets facilitates loading and unloading of goods through using forklifts and equipment. Experts use first class quality of raw materials for plastic pallets, the top leaders are committed to produce heavy duty pallets with optimum durability and functionality.
Being a leader in engineering industry involved studying the markets and working with the top leaders and from the origins of the engineering sector. Our main goal was to always ensure on easing the process of handling goods, ensuring efficiency, cost saving, durability and maximum functionality. Over the past 37 years and with dedication and experience in the engineering sector, we became top leaders in the Egyptian market and with partnership with the most successful leaders in the industry, offering various types of products for materials handling. Offering products as forklifts, side loaders, stackers, pallets, lp , gas forklifts, automated storage machines and plastic pallets form the most efficient worldwide suppliers and top leaders in different origins. Focusing on more than one aspect came by experience in the past years through dedication to the engineering sector. We are an industrial solution provider, dedicated to ensure the most efficient, affordable, quickest and safest way of servicing equipment. Becoming an expert involves studying problems and offering solutions and with great effort and maximum dedication, solving a complex industrial problem became our main motto.