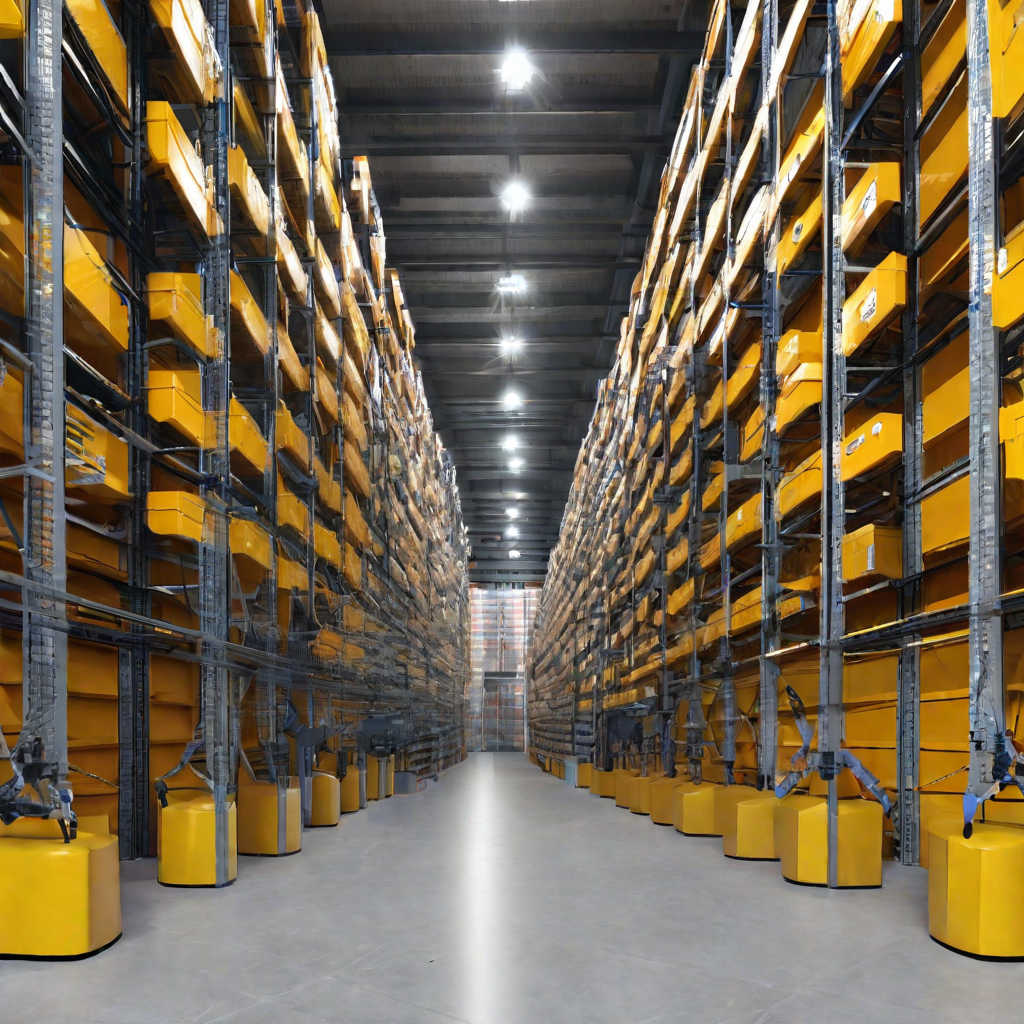 Automated storage systems, also known as AS/RS (Automated Storage and Retrieval Systems), are advanced technological solutions designed to automate the storage and retrieval of goods within a warehouse or distribution center. Also, These systems utilize a combination of hardware, software, and robotics to streamline storage processes and maximize space utilization.
The primary goal of automated storage systems is to eliminate manual handling of inventory and reduce human intervention. By automating tasks such as storage, retrieval, and inventory management, Also,  warehouses can minimize errors, improve accuracy, and increase productivity. Additionally, these systems leverage cutting-edge technologies like robotics, conveyors, and lifts.
Understanding Automated Storage Systems:
Definition: Automated storage systems (AS/RS) are advanced technological solutions designed to automate the storage and retrieval of goods within a warehouse or distribution center.
Benefits of AS/RS: Improved efficiency, optimized space utilization, reduced labor costs, enhanced inventory control, and increased order accuracy.
Description: VLMs are vertical shelving systems that use computer-controlled lift mechanisms to retrieve Also, deliver items from their storage locations.
Benefits: Maximizes vertical space utilization, improves picking accuracy, enhances inventory control, Also, minimizes manual handling.
b. Automated Vertical Carousels:
Description: Vertical carousels consist of rotating shelves or bins that bring items to operators at the optimal ergonomic height for picking or replenishment.
Benefits: Saves floor space, improves picking accuracy and speed, reduces labor costs, Also, enhances inventory control.
c. Automated Guided Vehicles (AGVs):
Description: AGVs are mobile robots that autonomously navigate within a warehouse to transport goods between storage locations and picking stations.
Benefits: Eliminates the need for manned material handling equipment, increases flexibility, reduces labor costs, improves safety, and optimizes workflow.
d. Shuttle Systems:
Description: Shuttle systems employ robotic shuttles that move horizontally within racking systems to retrieve and store items.
Benefits: Maximizes storage density, enhances picking efficiency, reduces labor costs, enables high-speed operations, and improves scalability.
a. Assessing Warehouse Requirements:
Analyze inventory characteristics, storage capacity needs, throughput requirements, order profiles, and space constraints.
Consult with experienced system integrators to determine the most suitable automated storage solution for your specific needs.
b. System Integration and Software:
Integrate the AS/RS with warehouse management systems (WMS) for seamless inventory control, order management, and data synchronization.
Utilize advanced software for real-time monitoring, optimization, and reporting of system performance.
c. Training and Maintenance:
Provide comprehensive training programs for warehouse staff to ensure proper utilization and maintenance of the automated storage systems.
Also, establish regular maintenance schedules and work closely with system suppliers to address any issues promptly.
Conclusion:

Automated storage systems have transformed the warehousing industry, offering significant benefits in terms of efficiency, space utilization, and cost reduction. Also, By implementing the right automated storage solution tailored to your warehouse's needs, Also, you can optimize operations, streamline workflows, and meet the ever-increasing demands of the market. Embrace this technology and stay ahead of the competition in today's dynamic business landscape.